 Prompt Air Conditioning Repairs in New Jersey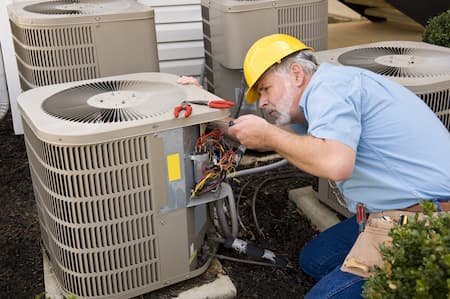 Without the proper knowledge, skills, and equipment, it can be very difficult to keep your air conditioner in the best condition possible. When your AC unit begins to fail or operate inefficiently, conducting repairs yourself can seem like an extremely daunting task. At Steele Mechanical, LLC, our air conditioning company is here to provide you with reliable air conditioning repairs in New Jersey.
With our help, routine AC maintenance and emergency repairs will be as easy as making a phone call. Our professionals have over twenty-five years of experience in the HVAC industry. As such, we can identify and repair any issue that is affecting your air conditioner.
If your air conditioner is faulty, unreliable, or inefficient, call Steele Mechanical, LLC today. Our New Jersey AC service technicians are ready to assist you in any way that we can. We can schedule your appointment for air conditioning services in New Jersey today.
Common Air Conditioning Problems Resolved By Our Professionals
Our air conditioning contractors can troubleshoot your entire HVAC system in order to determine the precise problems that are affecting system performance. We are routinely called upon to all of the following issues:
Refrigerant Leaks
Inadequate Maintenance
Electronic Control Failure
Sensor Problems
Drainage Issues
General Wear and Tear
Complete System Failure
Thermostat Problems
System Freeze-Ups
And More
Air Conditioning Repairs In New Jersey Conducted By Experts
When you hire our professionals, you can feel confident knowing that we will provide you with the most exceptional repair services possible. When we conduct repairs on an AC unit, our team members consider themselves to be home comfort doctors.
We will identify every issue with your air conditioner. Afterwards, we will prescribe the best means to resolve all of the problems. Our repairs will be the treatment that restores your air conditioner to the best possible operation. You are guaranteed to be pleased with the results of our efforts.
AC Repairs Achieving Energy Efficiency And Reliability
In the end, our main objective is to ensure that your air conditioner operates in the most efficient, effective, and reliable fashion. Our professionals will work their hardest in order to achieve all of these goals for you.
In this way, our New Jersey air conditioning contractors can improve the performance of your system for you. After our air conditioning repairs, you can feel confident knowing that your unit is in the best condition possible.
Common Reasons For AC Repairs
It's easy to take your cooling system for granted. No one realizes how much they appreciate or use their air conditioning - until it's not working. Even a system that's working at half capacity will be noticeable and unbearable.
Plus, if your system is compromised but still functioning, it causes more strain on the AC and causes your cooling costs to skyrocket. Let's take a look at some of the most common culprits that are reasons your air conditioning system may stop working, at least the way it's supposed to.
Blower Motor Problems
Insufficient Airflow
Rapid Decrease in Outdoor Temperature
Low Coolant Levels
Compromised Compressor
Of course, this is only a sample of the things that can go wrong. Your air conditioning is a complex machine that performs a seemingly simple job.
However, that leaves a significant amount of ways in which something can go wrong. That's why it's critical to have an industry expert you can rely on to get a correct diagnostic and assessment. Too many self-proclaimed experts will play trial and error in an attempt to fix your system, which costs you a lot of money with frequent visits and countless repairs.
Steele Mechanical, LLC Gets To The Core Of The Problem
Too often, during a service call, an HVAC technician is in a hurry and ends up fixing the symptoms but not the root of the problem. It's like having an oil leak in your car, and the mechanic patches the leak but doesn't bother to find out what's causing the problem.
By the time you realize there's still a problem, it's been long enough to require a new service call. That may be financially beneficial for the heating and cooling company you keep bringing back, but not for your bank account.
At Steele Mechanical, LLC, we believe in working harder to fix the source of the problem instead of addressing the symptoms. We want to establish long-lasting working relationships with our clients, and that means providing excellent care. You'll appreciate our commitment to fixing the problem correctly the first time, so it's also the only time we need to address it.
Helping Homeowners Prevent Common Air Conditioning Issues
Even better than offering an accurate assessment the first time, we work hard to educate our customers about taking care of their cooling system, so they don't need us as often. Some common ways homeowners can avoid needing repair service for their air conditioner:
Change your filters - Filters should be changed about every month, especially during peak usage times.
Transition to a programmable thermostat - Install and learn how to use a programmable Smart technology thermostat.
Check your ducts - Ductwork should be regularly cleaned and checked for leaks.
Schedule tune-ups - Please opt for affordable preventative maintenance through tune-ups instead of waiting for expensive emergency repairs.
Keep the outside until clean - Make it a point to clean the top and sides of the outdoor unit, as well as trim back shrubbery.